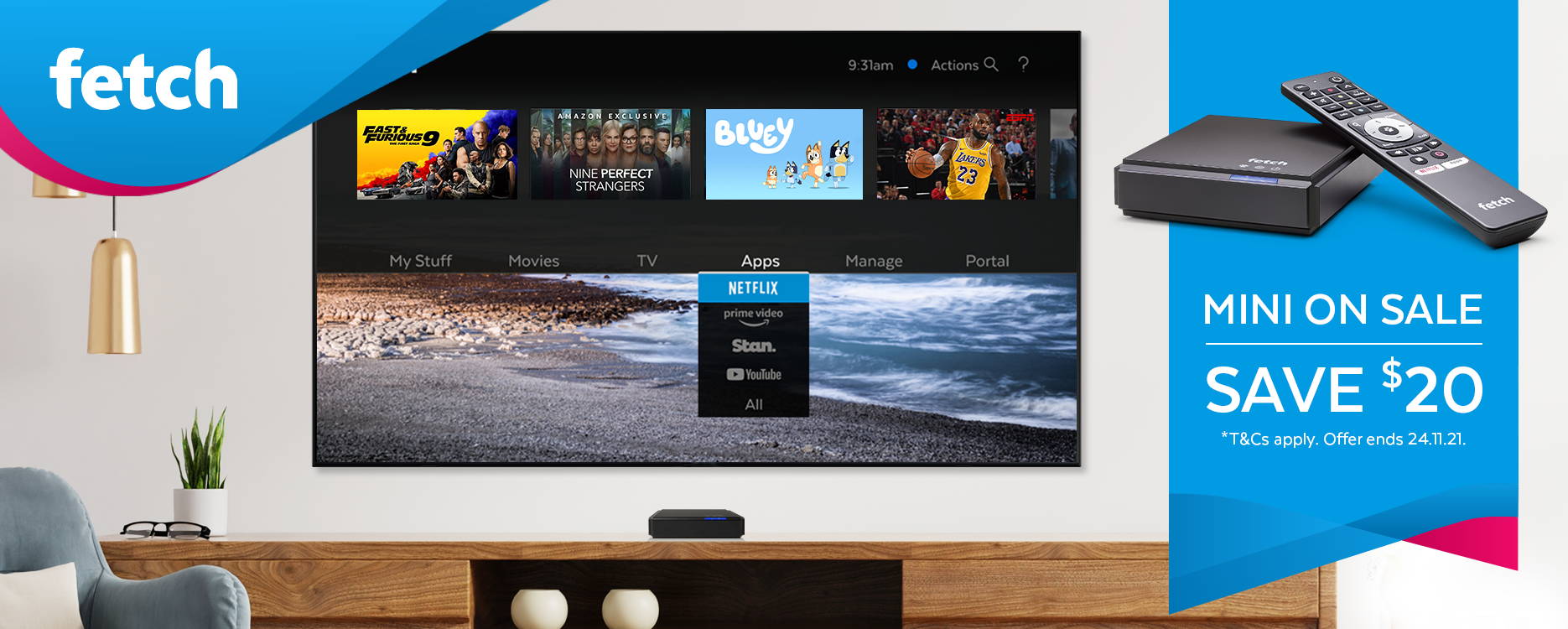 Love easy entertainment?
Someone you know loves Fetch, and loves you enough to send you here for a great deal on your very own Fetch Mini.
Fetch combines Free TV, Catch-Up, premium channels, streaming apps, and movies all in one place; with Universal Search so it's easy to find and start watching. Get a Mini, plug it into your internet and your TV and you're ready to go.
Order your Mini here before November 24 for just $149 (save $20). You'll get 1 Movie Rental Credit plus one month's free Ultimate Channel Pack with 45+ great channels to enjoy when you activate your Fetch account.
Remember to enter the code your friend gave to you when you check out, so you get the $20 discount and they get their 3 free Movie Rental Credits. Easy!
.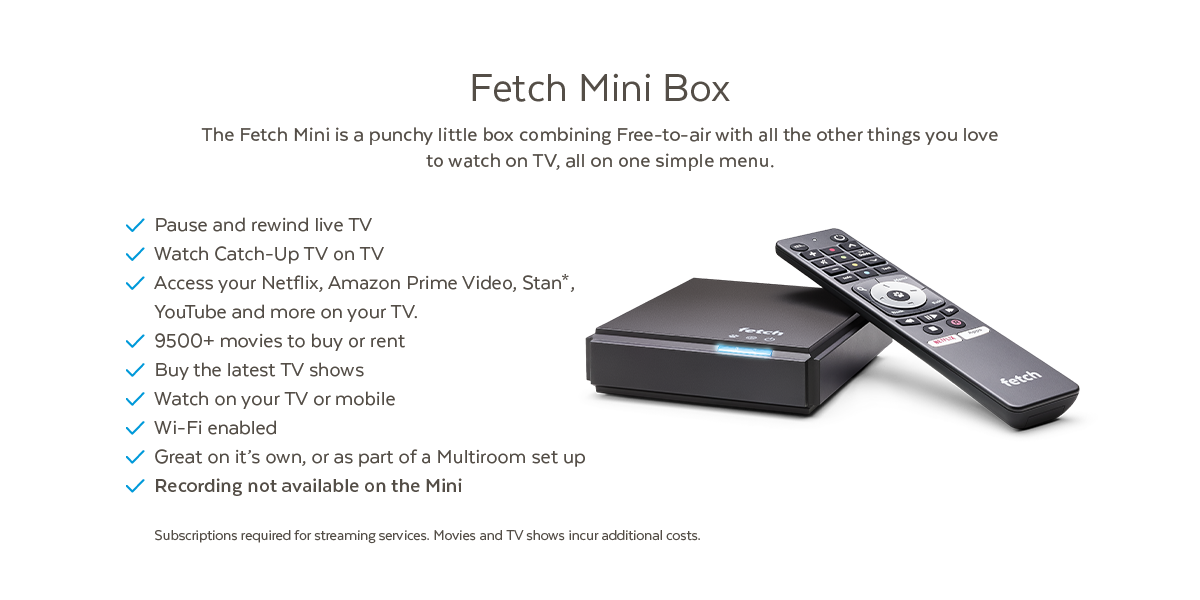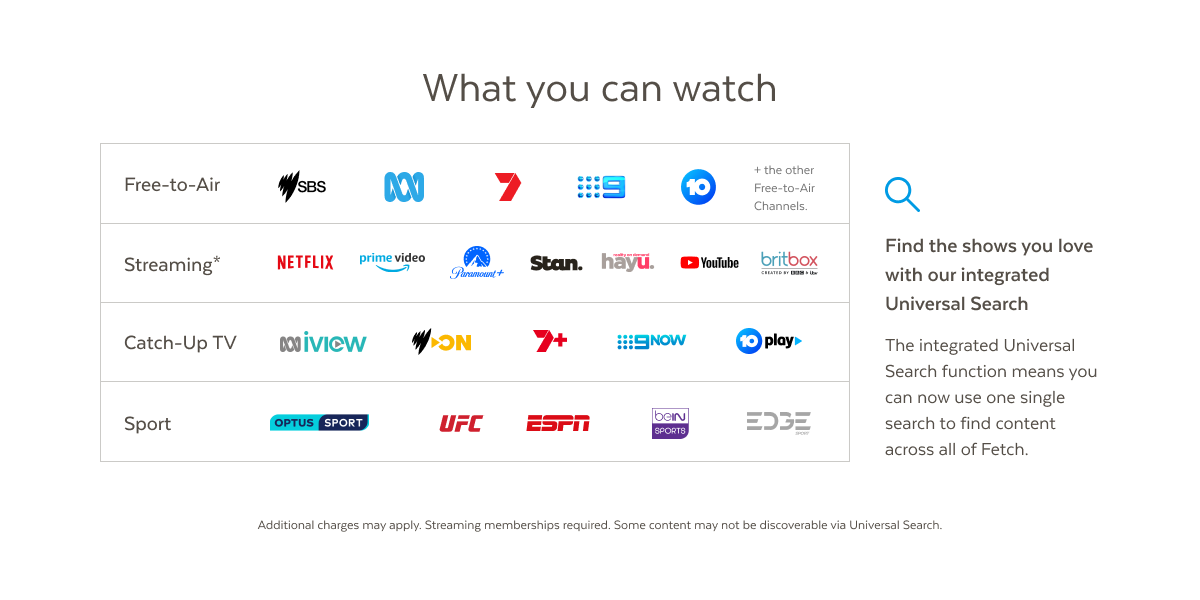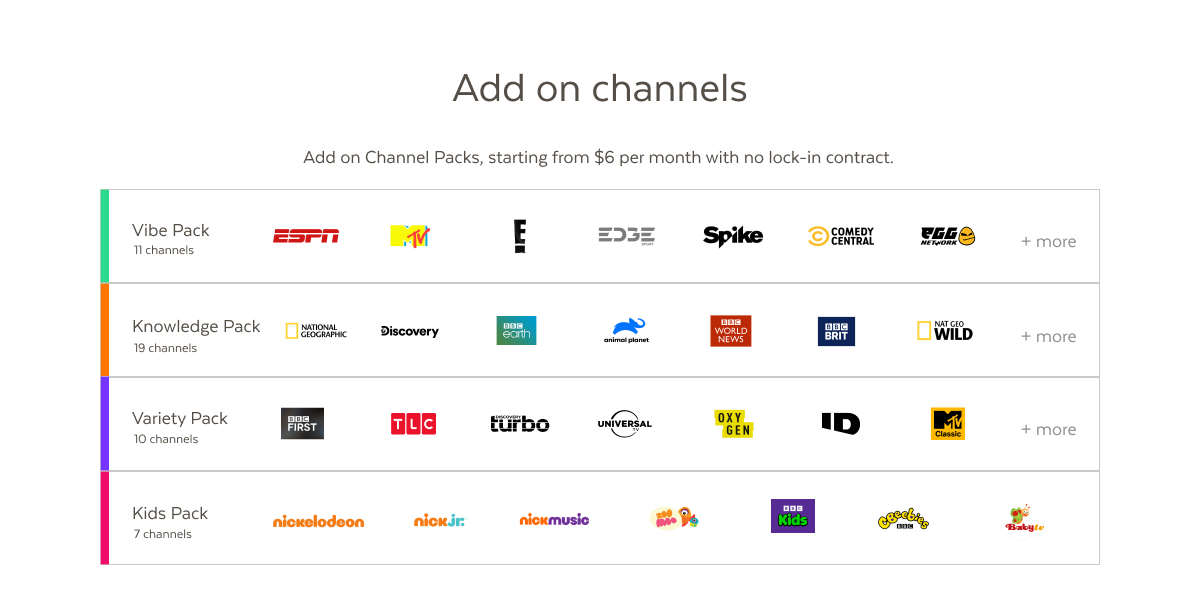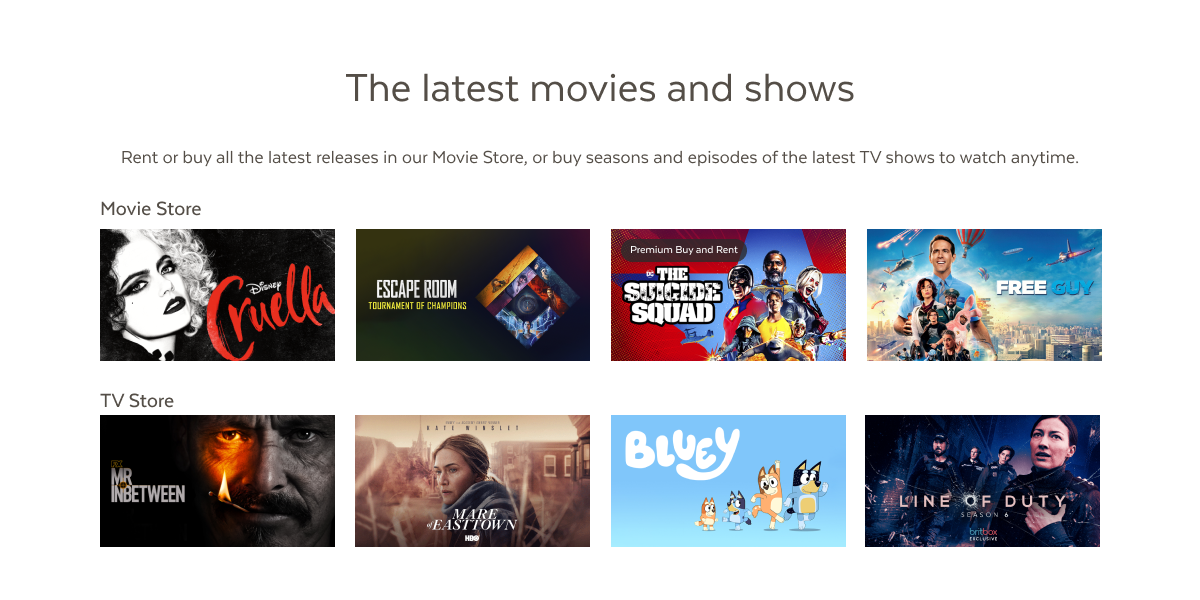 Terms and conditions for the Refer a friend offer:
1.Each referral code is unique to an existing Fetch retail customer account (The Referrer), and any benefits allocated under this offer apply to that account only. 2.The Referrer can share their code with as many people (Referees) as they like, but the benefit will only be paid to the Referrer on a maximum of the first 5 separate eligible sales. 3.The Referrer is permitted to use their referral code to purchase eligible product for their own use. 4.Eligible sales must be transacted via the Fetch online store using the link specified, and must occur between October 7 and November 24, 2021 (no rainchecks). 5.The Referrers unique referral code must be entered at the time of purchase by the Referee for the Referrer to receive their benefit. 6.The benefit to The Referrer is 3 Movie Rental Credits applied to the associated eligible Fetch Retail account. 7.Movie Rental Credits are for use in the Fetch Movie Store only, for eligible rental titles. They DO NOT include premium video on demand rentals. 8.The benefit is not transferrable and is not redeemable for cash. 9.The Movie Rental Credits will be applied to the Referrers account within 14 days of an eligible sales transaction. 10.The Movie Rental Credits expire after 90 days and no compensation will be given for expired unused credits. 11.The advertised value of the benefit is based on 3 eligible HD rentals. There will be no refunds or additional credits granted if the credits are redeemed for lower priced rentals. 12.The person you are referring must be aware of the benefit you receive from using your code. 13.Fetch TV reserves the right, at our sole discretion, to remove your access to this offer if you breach what we consider fair and acceptable use, or we have otherwise formed the view that you are scamming this program. 14.There is a maximum of 3 boxes permitted per Fetch retail account. 15.Boxes purchased on the Fetch online store are for use with Fetch retail accounts only and cannot be attached to a Fetch account with an Internet Service Provider.
Things to know:
Subscription required for Channel Packs, sporting channels and streaming services. Additional charges apply for Movie and TV Store purchases. Movie box incurs a $1 per month additional cost, with no lock-in contract. Prices and channel inclusions subject to change. Movies included in Movie Box are pre-selected and the titles used in advertising are indicative only. One month free Channel Pack offer is for new customers only. The Mini box requires a fixed line broadband of 3+ Mbps per box. The one-off $1 activation fee is payable via Australian Visa or Mastercard. Operation of the Fetch box requires a valid Australian credit card. Aerial required to access Free-to-Air TV. Your broadband provider will meter your data. SD channels use around 1GB per hour. Recording is NOT available on the Mini box. © Fetch TV Retail ABN 53 168 151 522.